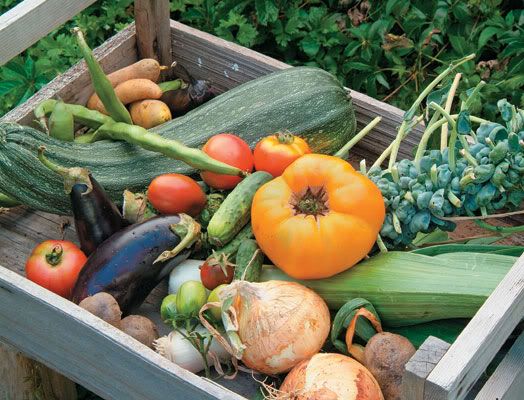 Growing a veggie/fruit garden is a great way to provide your family with nutritious healthy food choices minus the pesticides and fear of modified engineered items. It takes the questions out of what is really in my vegetables and what have they done to them? Growing your own garden from scratch creates a pesticide free, organic and wholesome way to eat!
How to start, if you haven't?
Veggies and fruits can be planted also in planters of all sorts.  You want to use organic soil for veggie and mix in organic hummus with manure and peat moss. Fertilize with organic fertilizer only. The problem associated with some planters is the irrigation of water. These need to be watered daily and also make sure water can flow out and not create puddles in the pot. A hole in the bottom of the pot is best. The planters allow for you to plant veggies in small places without the work of a big garden. They are great for growing herbs, strawberries, tomatoes and such. Some can be moved around to avoid problems such as rabbits and lack of sunlight.
If you choose to start a garden from scratch, know its a very rewarding project despite the amount of work it requires to get it started. Once you get past the creation of the garden layout and structure, you will find that each year planting is easy and bountiful. In fact, you neighbors who jokingly poke at you for taking on such a project, will also be rewarded with delicious organic veggies shortly.
Here are some pointers for starting out your garden from scratch
1. Choose a location that is sunny nearly all day.
2. Decide how big or small you want your garden to be. Plot out on paper the size of your garden. Decide on what type of material you will be using. Will your garden be flat or have raised beds. A raised garden has wooden or plastic beams that outline the garden but two beams can be put on top of one another so the bed is raised. The higher the bed, the more garden soil that will be needed to fill the bed, so pay attention to how tall you want the beds also.
3. Once you know the location and size of your garden, choose veggies and fruits that you and your family enjoy eating. If you love salsa or salads, get ready to plant those items so you have them conveniently at hand.
4. Determine where the south side of your garden is and that will be the back of the garden. This is important because the taller plants should be planted in the back of the garden. These plants can shade the others. I just looked at my garden and figured out where the south end is and that became the back of the garden. Tomatoes and taller plants go there.
5. Check out the link below on what month certain veggies/fruits are best grown and harvested. There are two main seasons for growing: cool and summer. Cool season plants include beets broccoli, cabbage, potatoes, radishes, and turnips. Summer plants are beans, corn, peppers, pumpkins, squash and tomatoes. Some plants are root veggies and may require being planted more deeply into the soil, so as you decide what veggies/fruits you want to grow you must also consider the time to plant and how deep to plant.
Preparing the Garden
1. If your soil is not bountiful, you will need to add more organic garden soil. Make sure you include organic hummus, manure and peat moss to enrich the soil. You do not want to use non organic soil because those will contain chemicals and other harmful ingredients. Some lower end soils also contain sticks, rocks and soil lacking minerals. The rule is usually one bag of hummus and manure for 4 bags of soil.
2. Fertilize the soil with organic fertilizer only. Again, the non organic has harmful ingredients and after all the hard work of building and preparing the garden, make the veggies clean and healthy! The directions are on the bag, but I prefer to add more fertilizer after planting, so I go light here. Water the soil after you add the fertilizer to get it into the soil.
3. Once the soil is dry and you have purchased your seeds and plants. You are ready to plant. Look at the garden and the taller plants go in the back south side of the garden. These plants such as tomatoes can grow rather high and can shade the others, so put them in the back south side. (I located the south and that was the back of the garden.) Don't buy any seedling plants with bugs, holes in the leaves, or brown leaves. Buy organic.
Planting
1. If you have seedling plants, follow directions on how deep to plant them in the ground and how far apart. Tomato plants usually plant 3/4 of plant in ground and 2 feet apart form the next one. As some plants grow, use cages and poles to keep them upright. If planting seeds from a packet, follow the directions as to how tall the plant grows (taller ones in back of garden) and how wide. Eggplant plants can get as tall as knee high, but they grow wide so you need a little more space than with tomatoes. Peppers are about knee or thigh high, but can be about 1 -2 feet apart. Strawberries grow ground level and like to cover it, so I usually plant those in their own area or in planters. Pumpkins are huge and vine like so they need to be in their own space. They can choke other plants too.
2. Seeds from a packet are sowed into the soil. Dig a little trench like line about 6 inches down and 12 across, sprinkle in the seeds of the same veggie and carefully put the soil back on top. Fertilize by sprinkling fertilizer on top and watering. Don't dig at the dirt.
3. After the plants are planted and seeds are in, I usually fertilize again within the next day or two or immediately if I haven't fertilized in a while.(when I first put the soil in and maybe I waited to shop for my plants so some days have passed). I take a tbsp and sprinkle organic fertilizer around the base of each plant. I mark this day on calendar and I water the garden well. The seeds without plants yet, I just sprinkle a tbsp or so over the seed area. I usually repeat this within 7 to 10 days to get the garden going. Once you harvest and reuse the garden, the soil gets better, esp if you fix any problems with the soil you may encounter each year. This year my soil seems to wet and may need more peat moss or sand.
4.Water you garden in the early am and dusk or evening. This keeps the leaves from burning with the sun. Once you start seeing little plants or plants get bigger, tend to them with again cages or sticks (tie them to them) so they don't fall over. Protect your garden from animals buy putting up a chicken wire fence to keep critters out.
You will see problems arise, such as soil, bugs, critters and location of certain plants just not right. You can fix things each year. Some plants will do great and others won't, but you will be rewarded with wholesome healthy foods. Get your kids out there! Please let them dig, plant, water and of course pick the veggies right off the plants. Teach them to eat and taste and love the earth. You can't get it healthier than this.
A great website for veggie planting season and more: Gardening  Coaches
Get FREE Healthy Ideas That Will Spark Your Life